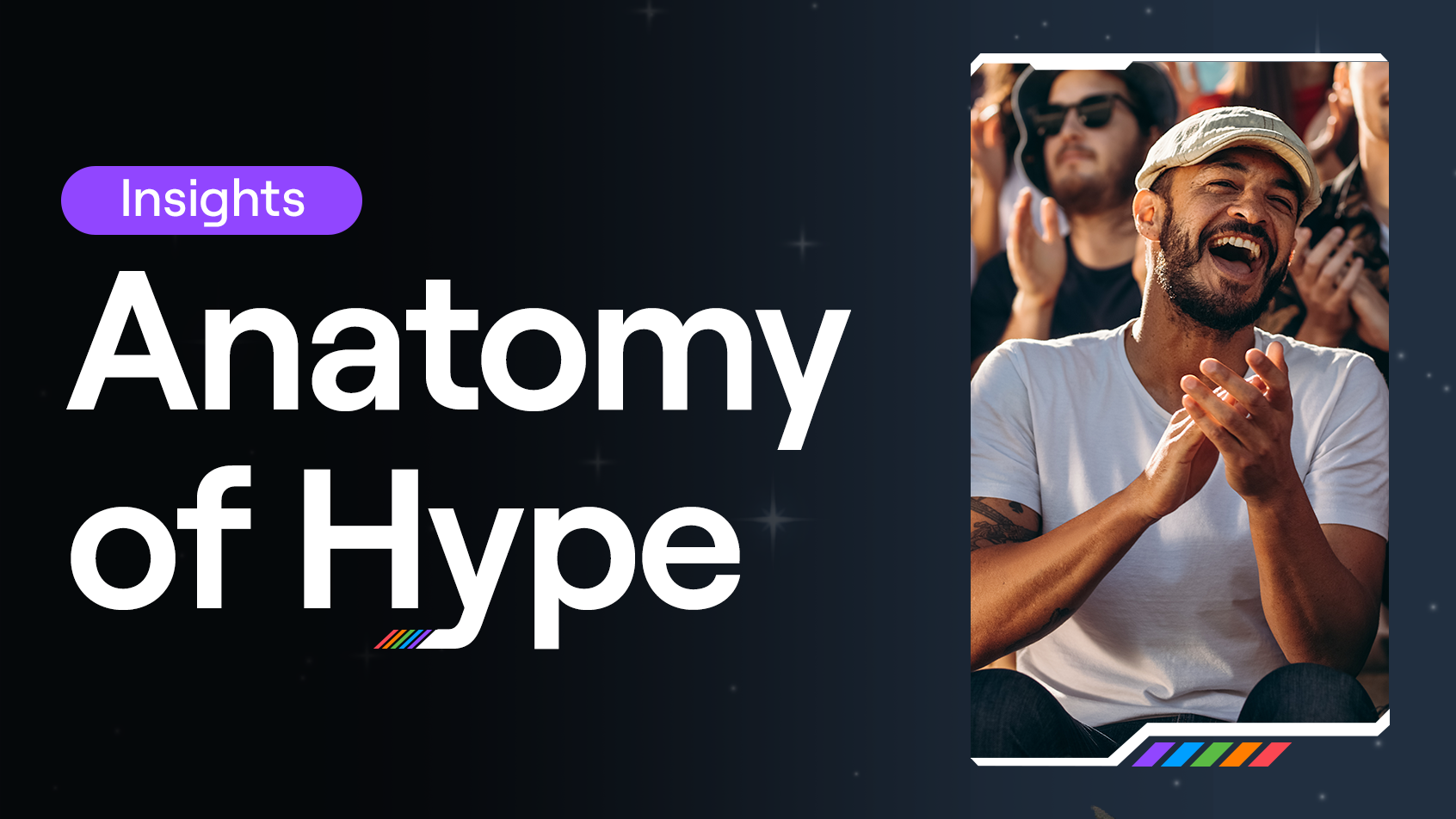 Explore the Anatomy of Hype
How are fandoms born, why do fans participate in them, and how can brands get in on the hype?
Twitch Ads worked with brand strategy consultancy Crowd DNA to better understand what drives fan culture today and how brands can support fans authentically in our global Anatomy of Hype research study.
Everyone is a fan of something.
Some fans collect merchandise while others create and share memes. Some fans line up at dawn to purchase concert tickets or get their hands on new sneakers, while others find joy in tuning into a livestream or participating in online discussions. One thing is clear: We're all fans of something. 
Working with brand strategy consultancy Crowd DNA, we set out on a mission to learn more about how hype is born, the role fandoms play in our lives, and how brands can engage with fans authentically. Here are some of the insights we uncovered:
Our passions give us purpose.
For many fans, entertainment is just one benefit to participating in a fandom. Being involved in a fandom helps meet our emotional and social needs, such as giving us a sense of safety, belonging, and esteem. These needs help us understand how we exist in, and navigate, the world.
In our research, we found that 64% of fans surveyed report that their fandom is a defining part of their identity. Whether you're seeking nostalgia or a much needed escape, each fandom offers unique benefits. For example, participating in music, video games, and sci-fi and fantasy fandoms can better fulfill emotional needs, such as relaxation, whereas participating in sports and streetwear and sneakers fandoms can better fulfill social needs such as establishing one's image in a community.
Regardless of what we're passionate about, being a fan gives us purpose.
There's more than one way for fans to experience community. 
Fandoms are largely a shared experience, and connections with other people—whether on or offline—help keep our fandoms alive long after a film leaves the theater or your home team's winning streak comes to an end. 
Community is integral to the fan experience, but manifests differently for each fan. In our research, we uncovered a new type of fan that we call the fluid fan. Fluid fans view community through a new lens, and the shared culture found within fan communities is just as important as the connections they foster.
The rise of fluid fans offers brands more opportunities to be a part of the hype found in fandoms.
Brands can—and should—get involved. 
Fan culture today is defined by its inclusivity—and this attitude extends to brands. In our research, 63% of fans surveyed agreed that any brand can get involved with fandoms as long as they make an effort to understand them. 
Fans today seek new ways to engage and connect with their fandoms, and they are welcoming to brands that bring value to their passions. Over half of the fans we surveyed say they are more likely to consider a brand that sponsors content related to their fandom. What are fans looking for exactly? Music fans surveyed appreciate when brands find ways to offer deeper artist interaction, more concerts, and behind-the-scenes access. Streetwear fans and sneakerheads on the other hand (or foot) enjoy when brands provide tips and tricks from their favorite style icons and exclusive access to the next big drop. 
Brands don't just have permission to engage with fandoms, they have their encouragement. In our full report, we explore the different ways brands can tap into fan communities, support fans on their journeys to immerse themselves in their passions, and join the hype.
Sources:
Twitch Ads and Amazon Ads custom research with Crowd DNA. Anatomy of Hype. Fielded September 2022 - February 2023. Data reflects AU, BR, CA, DE, ES, FR, IT, JP, MX, SK, UK, and US aggregated. Total n=12,000. Per country n = 1,000.