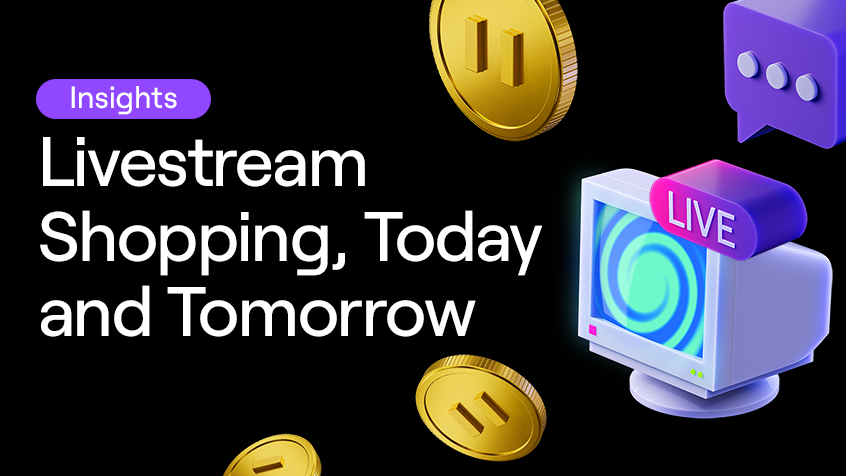 What brands need to know about livestream shopping
A recent research study from Twitch Ads, Amazon Ads, and Publicis Media explores consumer behaviors and attitudes within existing livestream shopping formats and uncovers the key features that make livestream shopping a discoverable, enjoyable, and effective vehicle for driving purchase consideration.
The next stage in the evolution of shopping has arrived in the United States
Shopping has been a part of everyday life for years, and has continuously adapted to meet the needs of consumers. With livestream video's increasing popularity, the shopping experience has evolved once again with the emergence of live shopping.
Livestream shopping, or live video commerce, combines the immersive experiences of in-store shopping with the convenience and reach of online shopping. It's an interactive shopping experience where shoppers can learn about products and services, see hands-on demonstrations, ask questions, and make purchases—all in real time. 
As livestream shopping becomes more common, Twitch Ads, Amazon Ads, and Publicis Media worked together to learn how consumers feel about live video commerce, how they've integrated livestream shopping into their lives so far, and how brands can best show up in the livestream shopping world. Insights from our research study, "Livestream Shopping, Today and Tomorrow," reveal how brands navigate the emerging format at the intersection of content and commerce. 
The current state of livestream shopping
According to a 2022 survey from Coresight, roughly one-third of adults in the U.S. have watched a shoppable livestream1. While livestream shopping is already quite popular in Asia, it is still a relatively new concept for most consumers in the United States. The format has tremendous potential to grow and transform over the coming years. In our research, 79% of adults who typically shop online had watched a shoppable livestream, including 39% who have tuned in and made purchases.
One of the most important benefits of livestream shopping is its ability to shorten the purchase journey. 83% of livestream shoppers surveyed agreed that engaging with a shoppable livestream makes it easier for them to decide to purchase a product, regardless of the product or product category. 
How can brands make the biggest impact with livestream shopping?
We asked study respondents to reflect on prior experiences with shoppable livestreams, watch and interact with examples of shoppable livestreams, and complete a survey to better understand what works and what doesn't work2. If you want to engage livestream shoppers, here's how:
Lead with authenticity: Authenticity in livestream shopping is key, especially if you want to reach audiences like Millennials and Gen Z adults. A great place to start is with the on-stream talent. Study respondents cited the highest-rated shoppable livestream examples as having enthusiastic, engaging, and authentic hosts.
On Twitch, brands should work with streamers who best align with their values and can speak to their intended audiences sincerely. By collaborating with livestream services to find streamers who are the best fit, brands can create advocates that are equipped with the authenticity, product knowledge, and passion that audiences seek. 
Make it engaging: Livestream shopping exists at the intersection of content and commerce, so your shoppable livestream must be entertaining. More than a third of survey respondents reported that "an entertaining and engaging presentation" is an important consideration for purchasing a product from a livestream. 
There are a lot of ways that brands can boost the entertainment value of their shoppable livestreams. Something as simple as reading messages and responding to viewers chatting can help viewers feel more engaged and invested with the livestream and the brand.
Provide demonstrations: Shopping in brick-and-mortar stores is a sensory experience. Livestream shopping—complete with hands-on demonstrations and in-depth reviews—is among the closest shoppers can get to the brick-and-mortar shopping experience without leaving their homes.
42% of survey respondents said that product demonstrations are an important consideration for purchasing a product from a livestream, and the highest-rated shoppable livestream examples were cited as helping respondents learn about the featured products. 
Offer promotions: Everyone loves a bargain, and livestream shoppers are no different. With livestream shopping still a relatively new method for making purchases, compelling incentives can help turn viewers into customers. 
Nearly half of survey respondents said that special offers were an important consideration for purchasing a product from a livestream, and the shoppable livestream examples that offered product deals and discounts were rated the highest by respondents. While exclusive deals can be a boon for brands and consumers alike, promotions don't just have to be in the form of discounts—anything that adds value to how consumers experience your product can help.
Don't be afraid to take risks. Livestream shopping is still an emerging format in the United States, and offers brands a lot of space—and grace—to experiment and iterate.
Livestream shopping is more than just a passing fad, it's the next step in the shopping experience. As live video commerce gains momentum in the United States, brands should take note and start planning how they'll incorporate the format into their e-commerce strategies. 
Sources:
1. Coresight. "Which U.S. Consumers Are Embracing Livestream Shopping," U.S., February 2022; n = 1638 respondents aged 18+.
2. Amazon Ads & Publicis Media with Latitude Research. Livestream Shopping, Today and Tomorrow. Fielded July 2022 - September 2022. US data. A18-54. n=2,000.