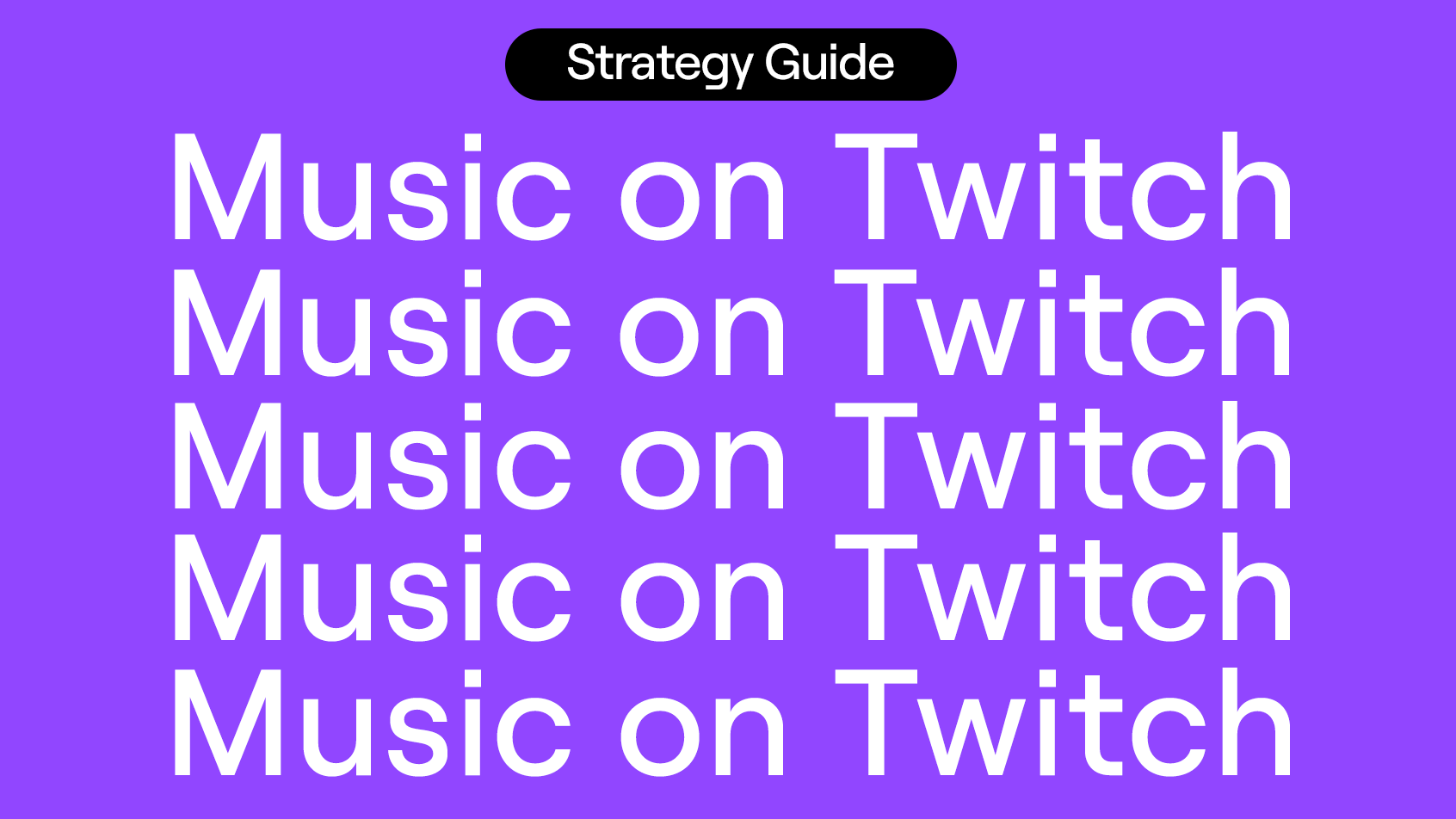 Your next concert is streaming on Twitch
Twitch is a one of a kind venue where the doors are always open and the show goes on whenever you say it does. Matt Heafy of Trivium helps explain why it's an important stage for musicians and fans, and how brands can support emerging artists.
Non-gaming content continues to grow on Twitch, and music streams are especially popular today. Why are music creators and music lovers turning to Twitch? Twitch offers a one of a kind venue where the doors are always open.
Musicians of all kinds—from singers to rappers to producers—can unleash their creativity, connect with their fans, and create a community of their very own on Twitch. With Twitch, devote more time to playing music and engaging directly with their fans, and turn their artistry into a way to earn money. For the last five years, Matt Heafy, lead singer and guitarist for the metal band, Trivium, has been streaming on Twitch to help amplify his music. He shared with us why streaming music on Twitch is important to him and to his fans.
A dedicated space for musicians and music fans to engage in real time
On Twitch, musicians can build communities around their content and form bonds that go beyond holding on to ticket stubs. Like many streamers, Matt Heafy began his Twitch career playing video games. Over time, he started intertwining more and more of his music into his livestreams. This shift helped Heafy discover the opportunities Twitch offers musicians. 
"If I do Trivium stuff, that's where I can show what I'm good at, I can make songs out of thin air and soundtrack something in an hour that would take someone else a month." This realization blossomed into a thriving community for him and his fans. "It really was about bringing my community of Trivium, that has supported me for the last 23 years, over and giving them a good place, a happy safe place, to be and to hang out and to get to know one another," Heafy explained. 
Heafy added, "I'll have musicians ask me, 'Like, well, what do I do on Twitch?' And say, 'What do you love in life? Do that and teach people about why you love it and how you do it and why you do it.' That's the amazing and beautiful and poignant thing about Twitch." Heafy's approach to streaming can be applied to nearly anything. "It's about the viewer and the host. That's the relationship. That's the heart connection. It's an amazing thing. You can sub out whether it's music, or it's chess, or it's Fortnite or Call of Duty, or it's bodybuilding. It can truly be anything, and I think that's amazing."
For Matt Heafy, livestreaming his music on Twitch helps take fan engagement to new levels, including taking his community along for the ride during the creative process in the recording studio. "Streaming is really where I hone my craft, and my followers allow me to do that," Heafy explains.
In addition to deepening his relationships with fans, streaming has helped Heafy grow professionally. "Twitch has done so much for me, it's helped me support my family better. It's gotten me better at singing, screaming, guitar playing, being a frontman, speaking, all this stuff. It truly is from this service. So I will always be so thankful to have discovered it and to be here," added Heafy.
Opportunities for artists, fans, and brands to connect
Twitch works with musicians, labels, music festivals, and more to keep the beats bumping all year round—and brands can be a part of the experience.
There are countless musicians playing and creating their music, and engaging with their communities on Twitch at any given moment. Brands can work with Twitch to sponsor studio sessions that highlight a single artist. These intimate livestreams give viewers a chance to ask questions and get to know them better through interviews and discussions following their performances.
Support from brands can make a huge difference for up-and-coming musical artists, as creating music requires the right equipment and gear. Heafy explains how brands can help, "I think there are a lot of musicians who will need gear. So I think brands working with music streamers to say, 'Hey, we'll send you out gear, and you promote our company on your channel,' is a great idea. With affiliate codes, musicians that are maybe starting up a little bit smaller can make some side cash off of endorsements, and then work their way up to maybe becoming paid ambassadors and show off the gear on streams." 
New ways to experience your favorite music festivals
In addition to more intimate settings, viewers can find livestreamed concerts from some of the world's most iconic music venues on Twitch. These livestreams allow music fans to witness live music and see their favorite artists in concert no matter where they are in the world. Twitch also livestreams some of the most popular music festivals each year, including some of the biggest music festivals in the United States, such as Life is Beautiful, Rolling Loud, and Outside Lands.
Whether the festival is a single, jam-packed day of nonstop beats, a full weekend, or more, there are a variety of ways that Twitch can help brands  show up and align with the energy and spirit of music festivals, both on-site and online. With Twitch and its music festival partners, brands can serve livestreaming sponsors for a single, impactful day of music or they can sponsor an entire season of festivals. As sponsors, brands offer viewers more ways to connect with artists and festivals, including added interactivity such as behind-the-scenes interviews, dynamic on-screen overlays, and more.
Twitch's doors are always open for musicians, music fans, and brands seeking to connect through the magic of live music.
Contact a representative to learn how your brand can be a part of the excitement.